Thank You for a Great 2022 Season! We'll see you in 2023!
Thank you for making the inaugural year of Lone Star Lights a bright success!
A New Christmas Tradition is Born.
Lone Star Lights offers a-17 acre park with 8 immersive thematic zones complete with incredible photo opportunities, engaging interactions, and over a million lights. Local food and retail vendors will enhance this dynamic community-oriented experience. Lone Star Lights will offer the perfect environment for Christmas memories to be made.
SOMETHING FOR EVERYONE
Lone Star Lights has been designed with the family in mind, providing great age-appropriate activities for the little ones like playing in the snow, riding a horse on the trail ride, or exploring the petting farm. For teens and young adults, our Arctic Adventures are sure to provide a thrilling rush as they zip through the air, traverse across the aerial elements, or beat the clock in the escape room. There are plenty of shopping, food, and exploration opportunities to be a part of the family experience for everyone this Christmas season.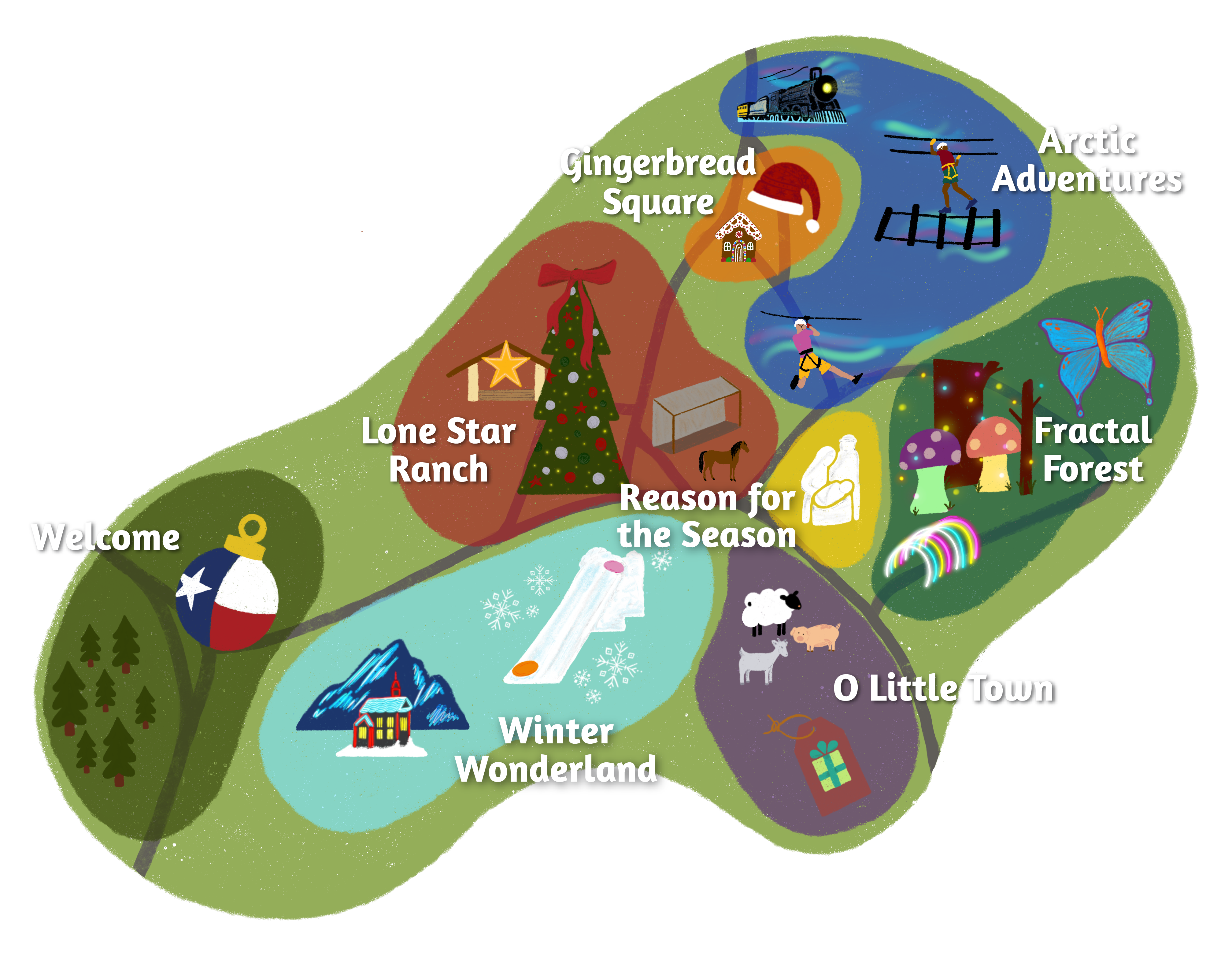 Enjoy Houston's premiere Christian-based theatre company, The A.D. Players, as they offer a performance exclusive to Lone Star Lights. Be entertained while served at your table in the Dinner Theatre, savoring a 3-course holiday dinner provided by the Carolina Creek Culinary team.
Lone Star Lights provides multiple lodging options for guests to make the most of their experience. From private lodge rooms, full family cabins, or our bunk-style group cabins, there's something for everyone!
What is Lone Star Lights?
Lone Star Lights, a 1 million+ light, immersive experience will brighten the Houston Area this Christmas season. You and your entire family are invited to explore and discover over 17 acres filled with unique interactive experiences,  performances, zip lines, high adventure parks, sledding in the snow, Santa's Gingerbread Village, the bustling town of Bethlehem, and so much more. 
Designed by the same team that delivers the signature creative environments and camps that Carolina Creek Christian Camps is known for,  Lone Star Lights is sure to fill your holiday with Joy and Christmas Magic.
This Christmas, a new family tradition is born.
What Folks are Saying about Lone Star Lights
1,000,000+ Lights •  Arctic Adventures Zip • Arctic Adventures Aerial Course • Arctic Adventures Quick Flight • Glacier Express Escape Room • Live Music • Community Performance Stage • Trail Rides • S'Mores • Local Food Vendors • General Store Shopping with Local Vendors • Snow Zone with Real Snow •  Sledding Hill • Overnight Lodging • Dinner Theatre with A.D. Players • Petting Farm • Larger-Than-Life Nativity • Gingerbread Creations • Crafts • Meet Santa in His Workshop • And More!
Get tickets to experience
Lone Star Lights this season
Full Dinner Theatre or Sunday Dessert Matinee
Themed Lodge rooms, private Family Cabins or exclusive Group Cabins
Thank You to Our Sponsors!
Lone Star Lights is made possible by our generous sponsors. These organizations and businesses have committed to come alongside us with the mission of creating great family-friendly experiences for all this Christmas season. 
A special thanks to 7Roots Creative and Team Wilson Media for coming alongside the Carolina Creek Creative Team to make Lone Star Lights a reality.
Sam Houston Electric Cooperative
Two Blondes & A Bakery
Bethy Creek Resort
A.D. Players
ACR Electrical
24 Seven Horses
Ward Furniture
Adventure Experiences
Lonestar Security & Investigations
CAT Cafe
Rockin' D Services